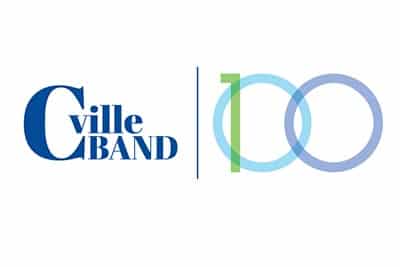 The Charlottesville Band celebrates its 100th anniversary with a grand centennial concert at the Ting Pavilion on August 16 at 7:30 p.m.
The community is invited and admission is free.
This evening will feature guest artists, the US Army Brass Quintet with vocalist Bob McDonald, Ray Caddell of Big Ray and the Kool Kats, and guest conductor Paul Murtha.
Proclamation presentations will be made by Sen. Creigh Deeds (D-Warm Springs) and Del. Sally Hudson (D-Charlottesville) to mark this occasion in Charlottesville history.
DuCard Vineyards will serve The Spirit of '22, Cville Band's limited-edition centennial wine.
"The band is thrilled to perform alongside great national talent at one of Charlottesville's greatest venues," said Steve Layman, the band's musical director since 2008. is the icing on the cake.
Formerly known as The Municipal Band of Charlottesville, Cville Band is one of the oldest continuously operating amateur community bands in the United States.
Cville Group Timeline:
The original band members received their instruments on October 23, 1922,
The band made their first public appearance on April 10, 1923, at a parade down Main Street followed by a concert at the corner of Main and 2nd Streets.
In 1963 the Cville Band performed at the first annual naturalization ceremony at Monticello and have performed at every ceremony since.
In 1976, the band performed for Queen Elizabeth II's visit to Charlottesville to commemorate the United States Bicentennial.
In addition to the slate of free concerts given this centennial year, the band gives back in other ways, including the Centennial Music Scholarship, a new program for young public school musicians in the City of Charlottesville and County of Charlottesville. 'Albemarle. Seventh and eighth graders who play musical instruments can request one music lesson each week throughout the 2022-2023 school year at no cost to them. At the end of the year, scholarship recipients will perform a piece with the band in a live concert.